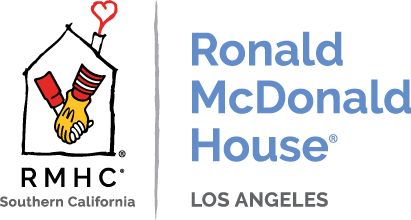 Los Angeles Ronald McDonald House
Erin Olson , Volunteer Manager
4560 Fountain Ave
Los Angeles, CA 90605
eolson@rmhcsc.org
(323) 644-3088
About
OUR MISSION:
To provide comfort, care and support
to children and families in Southern
California so they can receive
treatment that directly improves their
health and well-being.
OUR VISION:
To create a community where
children and their families from across
the globe can come embrace life and
healing with a sense of hope,
enthusiasm, courage and joy.
Los Angeles Ronald McDonald House can accommodate 75 families each night and continues to serve as a "home away from home" for hundreds each year. Our home away from home allows the entire family to surround and care for their child while they receive treatment, and not worry about the cost of a place to stay or providing meals.
While at the Los Angeles Ronald McDonald
House, families receive an experience with:
private bedrooms
hot meals and access to full kitchens
exercise facilities
washers & dryers
entertainment activities for the entire family
mental health services
and most importantly, a community of support!
Learn More
Watch a video about Los Angeles Ronald McDonald House!
Get Involved!
Service Opportunities
Families and kids staying at a Ronald McDonald House are often on the go or at the hospital for long periods of time throughout the day. You can help make life a little easier by putting together ...
Families staying at the House often spend long hours at the hospital dealing with stressful situations. You can help make their stay more enjoyable by putting together ...
Educational Activities
Sign Up for Our Newsletter
Stay up-to-date with the latest service opportunities and events in your area!