Explore Our Nonprofit Partners
Explore Our Nonprofit Partners

Nate Ross , Manager of Volunteer Services
179 Amory St
Jamaica Plain, MA 02130
nross@servings.org
(617) 522-7777 x228
About
Community Servings is a not-for-profit food and nutrition program providing services throughout Massachusetts to individuals and families living with critical and chronic illnesses. We give our clients, their dependent families, and caregivers appealing, nutritious meals, and send the message to those in greatest need that someone cares.
As one of Boston's largest volunteer-driven programs, we make and home deliver over 875,000 meals annually. Our volunteers prepare and package meals in our commercial kitchen for our clients who are too sick to get their own food or cook for their families. This is a great opportunity to work with food and help those in need!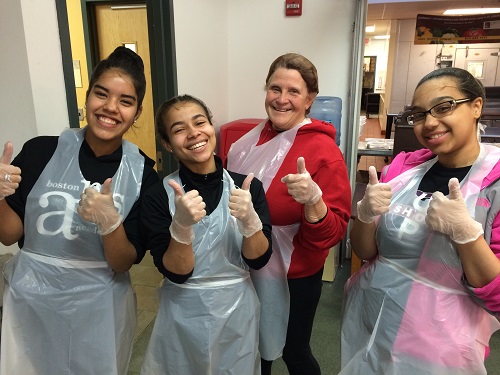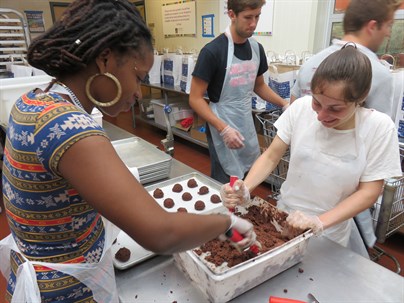 Learn More
Watch a video about Community Servings!
Get Involved!
Service Opportunities
If you like working in a fast-paced environment, working in a kitchen with food and great people, and you have a group of friends/family members to help you, then this opportunity is for you! ...
If you are 13 years or older, you can volunteer to work in our kitchen. We are in need of 10-12 individual volunteers to join a few members of our culinary team in the ...
Do you like brightening someone's week? Help us deliver meals to our community members who are suffering from illness. You will deliver to them a week's worth of delicious food and snacks that ...
Educational Activities
Create the Change® partners with nonprofit organizations that we believe offer age-appropriate service opportunities for youth and families. All of our partners sign a collaboration agreement promising to provide age-appropriate activities in a safe environment.
Create the Change® does not run, host, or facilitate the service opportunities seen here, nor are we responsible in any way for the management (financial or otherwise) of the organizations we feature.
Always be sure to do your own research on the nonprofit organization and service opportunities available to make sure it's a good fit for you before getting started. You may find the organization's contact information on their profiles.
Sign Up for Our Newsletter
Stay up-to-date with the latest service opportunities and events in your area!