Explore Our Nonprofit Partners
Explore Our Nonprofit Partners

Carolina Martinez , Program Coordinator
105 Chauncy Street
Boston, MA 02111
cmartinez@fw4elders.org
(617) 482-1510 ext 143
About
FriendshipWorks' mission is to reduce social isolation, enhance quality of life, and preserve the dignity of older adults in Greater Boston. We have more than thirty years of experience recruiting, training, and placing volunteers to provide support and assistance to elders.
FriendshipWorks (originally MATCH-UP Interfaith Volunteers) was founded as a model program in 1984 with a three-year initial grant from the Robert Wood Johnson Foundation. This original grant funded a network of religious congregations and social service agencies with a mission to decrease the isolation of elders and disabled adults and prevent unnecessary institutionalization and enhance their quality of life.
The original MATCH-UP Interfaith Volunteers caregiver coalition was supported by congregations, religious organizations, and senior service providers across Boston and Brookline. Many continue to lend their support today.
Throughout its history, FriendshipWorks' mission has remained constant as its services have expanded to meet growing needs. In 1987, we were a founding member of the National Federation of Interfaith Caregivers. It has since served as a replicable model for 1300 similar programs across the United States.
In 1991, FriendshipWorks separated from its founding agency and became an independent nonprofit 501(c)(3) organization. After two office moves, FriendshipWorks settled into its present 105 Chauncy Street office in 2003.
FriendshipWorks has won numerous awards over the years. In 1999, Gov. Paul Cellucci proclaimed November 21 as MATCH-UP Interfaith Volunteers Recognition Day. In 2005, Mayor Thomas Menino and the Boston Commission on Elderly Affairs awarded us the Edward L. Cooper Award for Outstanding Neighborhood Based Senior Service Agency.
In 2014, FriendshipWorks celebrated its 30th year of service to elders in Boston and Brookline.
Since its inception, FriendshipWorks has assisted over 23,400 Boston-area elders, providing almost half a million hours of donated care. This represents a value of more than $10,442,500 worth of care.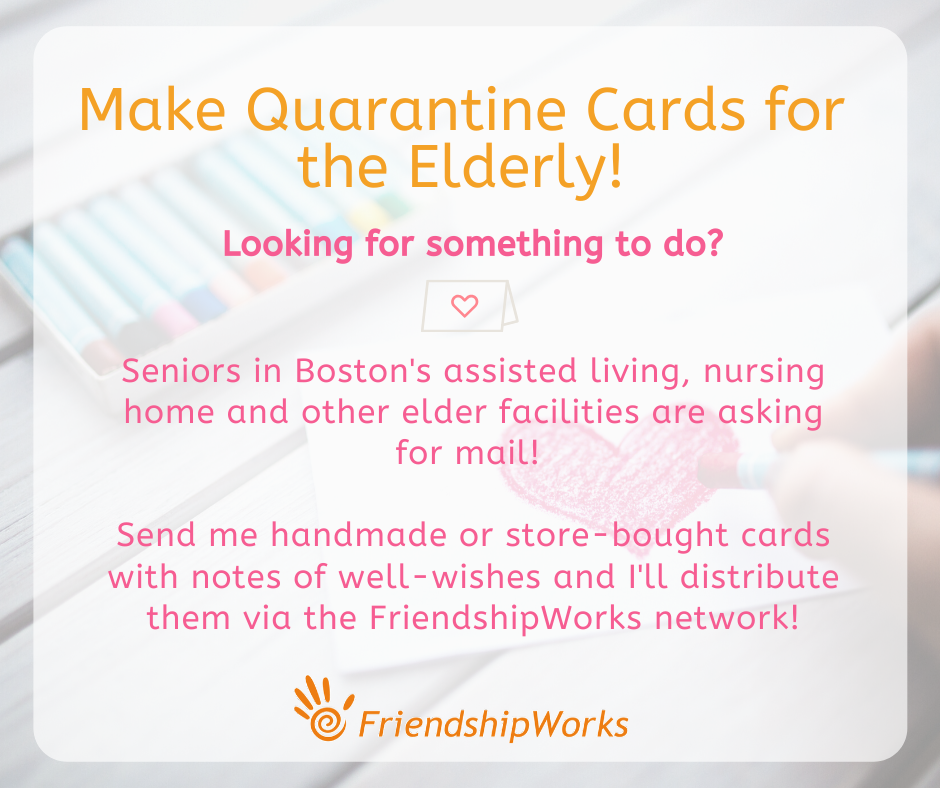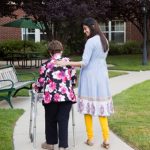 Learn More
Watch a video about FriendshipWorks!
Get Involved!
Service Opportunities
Card-Making Cards have created smiles, memories, moments, and connections. The card-making initiative that started as a way for people of all ...
Educational Activities
Create the Change® partners with nonprofit organizations that we believe offer age-appropriate service opportunities for youth and families. All of our partners sign a collaboration agreement promising to provide age-appropriate activities in a safe environment.
Create the Change® does not run, host, or facilitate the service opportunities seen here, nor are we responsible in any way for the management (financial or otherwise) of the organizations we feature.
Always be sure to do your own research on the nonprofit organization and service opportunities available to make sure it's a good fit for you before getting started. You may find the organization's contact information on their profiles.
Sign Up for Our Newsletter
Stay up-to-date with the latest service opportunities and events in your area!