Explore Our Nonprofit Partners
Explore Our Nonprofit Partners
About
Music en Masse is a 501(c)(3) non-profit based in the Greater Boston Area which strives to provide privatized instruction to young children in need through volunteer efforts from high school, college students, and adult volunteers with a musical background. Music lessons are 100% free.
We serve families who fall into one of the following categories:
Families who can afford an instrument but not private instruction
Families who can afford an instrument and private instruction but do not have the time or a sufficient music program in their area
Families who can neither afford an instrument or private instruction
Families in any of the above categories who want to have their child start learning music at an earlier age
We are looking for families who would like to enroll their child in our program. Throughout the spring and summer, our volunteers will provide weekly lessons. Please fill out this form if you are interested:
Music en Masse Children Sign-up Form.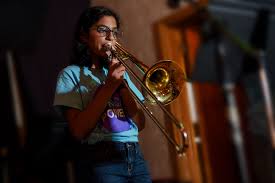 Get Involved!
Service Opportunities
We are looking for high school and college students (and adults) to teach young children an instrument or music theory. Through these efforts, we will bring music to students whose families cannot ...
Educational Activities
Create the Change® partners with nonprofit organizations that we believe offer age-appropriate service opportunities for youth and families. All of our partners sign a collaboration agreement promising to provide age-appropriate activities in a safe environment.
Create the Change® does not run, host, or facilitate the service opportunities seen here, nor are we responsible in any way for the management (financial or otherwise) of the organizations we feature.
Always be sure to do your own research on the nonprofit organization and service opportunities available to make sure it's a good fit for you before getting started. You may find the organization's contact information on their profiles.
Sign Up for Our Newsletter
Stay up-to-date with the latest service opportunities and events in your area!